This text was guest-authored by Giles Kirkland, car expert and all-round motoring enthusiast.
As governments promote policies to lower carbon emissions, including higher taxes on top offending vehicle models, global automakers have been forced to set green goals for the future. As a result, 2019 was truly a springboard year for setting those plans in motion.
Europe is leading the way, with environmental and sustainability initiatives supporting the move toward electric vehicles and environmentally-friendly auto production processes. Changes in regulations proved to be a catalyst for a boom in end-of-year auto sales in Europe.
Despite a weak start to the year, overall European auto sales were 1.2% higher in 2019 than in 2018. In stark contrast, the world's two largest car markets, China and the US saw a sharp decline in total auto sales by the end of 2019. This is largely due to ongoing trade negotiations.
Regardless, the interest in electric cars is very much gaining traction. According to a report by Edison Electric Institute, global EV sales increased 46% in the first half of 2019 as compared to the same period of the previous year. In Q3 alone, more than 87 thousand electric vehicles were sold in the US. The study also showed that new EV sales increased against an overall automobile market that was down 1% in Q3 of 2019.
What's Influencing Car Buyers' Adoption of EVs?
The push toward an all-electric vehicle world is on, but adoption is still slow due to several factors, including a limited selection of models available, perceived higher price tags of electric vehicles, and insufficient charging infrastructure.
Average EV prices around the world are, in actuality, not much off from the average sales price of new combustion engine vehicles. For example, the average price of an EV in the USA is around $35,000 while the average sales price of a new car including all models was $36,718. Electric cars cost less in China where their medium price is at around $27,000, while in Europe it is closer to USA prices - at $34,000.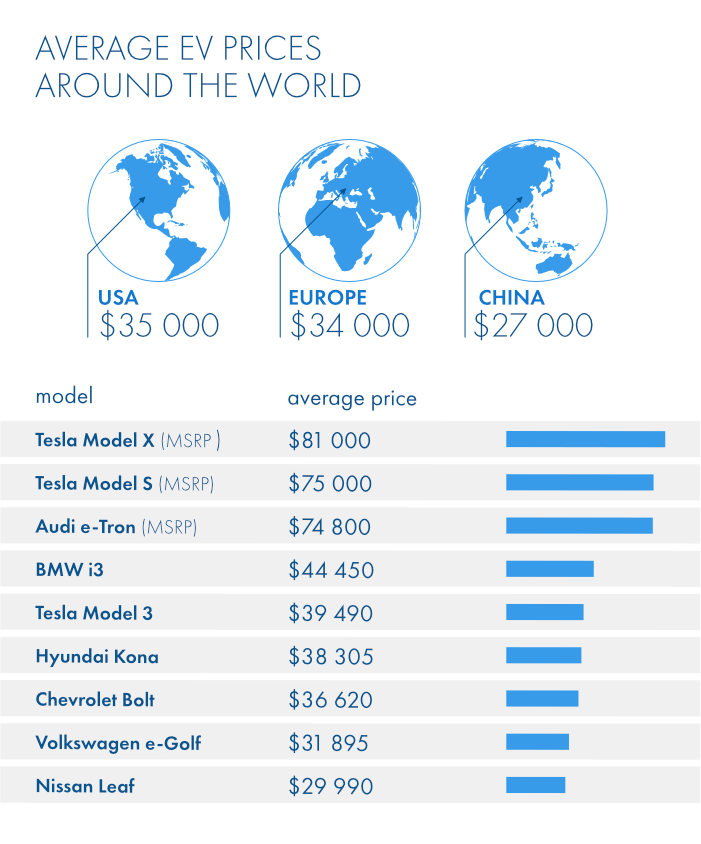 According to the "2020 Global Automotive Consumer Study" released by Deloitte, interest in hybrid electric vehicles and battery-powered electric vehicles continues to grow, with fewer people wanting traditional internal combustion engines in their next vehicles. The study also showed that the percentage of car buyers interested in purchasing EVs rises dramatically with projected petrol price increases.
Sustainability and Green Efforts in the Auto Industry in 2019
Last year, the top two reasons for interest in purchasing hybrid or electric vehicles were lower emissions and lower vehicle operating costs, as opposed to associated social status implications.
This brings us to a vital influencing factor in the progress of the move toward electric vehicles: sustainability. The social, economic, and environmental benefits of purchasing an electric car are motivating factors around the globe, with the highest concern for lowering emissions coming from the countries of India and Germany.
Adequate infrastructure is key to sustainability in the EV landscape. In Europe, France and Germany boast of the highest number of EV charging stations available, each with more than 20,000 charging stations operational nationwide. Sweden and Spain are close behind. These smaller European countries are outpacing the US significantly. As of May 2019, the entire United States had only 68,800 public charging units, with the majority of those located in the State of California.
Sustainability and green measures don't begin and end with electric vehicles, however. For example, car manufacturer Ford makes efforts to improve fuel economy in their internal combustion engine vehicles through lightweighting (making vehicles lighter with the use of lighter weight materials such as aluminum and graphene). They are also focusing on the sourcing of more sustainable materials to be used in the auto production process, such as eco-friendly materials like bamboo, agave fiber, algae, and dandelion roots.
Car companies also are working to minimize the impact of their supply chains on the environment by streamlining inventory replenishment methods, improving communication and transparency with suppliers, and reducing waste sent to landfills. The year 2019 showed that the automotive industry as a whole is working to minimize the sector's carbon footprint, improve health and safety impacts, and management of greenhouse gas emissions.
About the author:
Giles Kirkland is an environmentally conscious car expert with passion for combining the newest technologies with a healthy lifestyle. He gives sustainable living and driving tips and shares his ideas on everything from electric vehicles to the alternative energy sources. Giles' articles are available at Oponeo and on Twitter.